Vu 40D6575 102 cm (40) LED TV
(Full HD)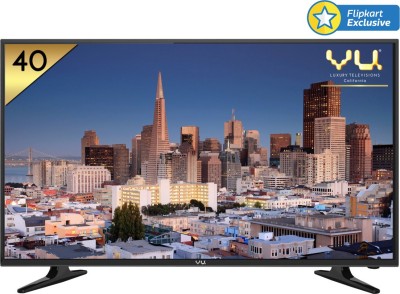 Features of Vu 40D6575 102 cm (40) LED TV
LED Display
102 cm (40)
Full HD, 1920 x 1080
2 x HDMI, 2 x USB
Refresh Rate – 60 Hz
Display of Vu 40D6575
Enjoy stunning picture quality on this TV's 102 cm (40) Full HD screen. The energy-efficient LED backlighting ensures your images come alive on the big screen while reducing power consumption.
Connect your laptop or personal computer with  Vu 40D6575
Connect your laptop or personal computer to this TV via VGA or HDMI cable and view the content on its screen. It comes with two HDMI ports which make it easy for you to showcase photos or videos from your laptop.
Watch TV without disturbance :Headphone Connectivity of Vu 40D6575
Now you can watch late night movies, cricket or football matches on your TV without disturbing the people around you, thanks to the 3.5 mm headphone out jack. Plug in your wired or wireless headphone and enjoy clear audio even at a loud volume. This jack also lets you sync your TV audio with an audio system in Aux input.
Connect any USB device and Play anything with Vu 40D6575
Thanks to the two USB ports offered by this TV, you can connect any USB device and play media files. This TV comes with Digital Media Player (DMP) which supports most media formats.
Viewing angle of 178 degrees with Vu 40D6575
The display has a wide viewing angle of 178 degrees which displays images in rich and clear details to every person watching TV in the room. With high light transmittance, brightness, and contrast, you can experience true-life picture quality in every image.
No Gray-Hair Standard
With the Achromatic technology, the black and white colors are given greater depth on this TV. Brightness, contrast, colour and colour temperature are digitally analyzed by the full-colour optimizer so each color appears the way it is supposed to be.
Pinch Thin Frame
With the Advanced Edge LED technology, this TV is extremely slim and has a small bezel.
Dust and moisture-resistant
This TV has high-grade dust and moisture-resistant components which help protect it from the environment. The stability of this TV is ensured by its glass epoxies and solid industrial components.
Sound
You can enjoy surround sound effect in any room up to a distance of 20 square feet from this TV with the Digital Noise Reduction (DNR) feature.