Samsung Curved Ultra HD 3D Smart LED TV
Enjoy a home theater experience like never before with the Samsung Curved Smart LED TV .  Experience a brighter picture and up to 64X greater color expression than conventional HD/UHD TVs – all powered by a revolutionary panel featuring Nano-crystal technology
Samsung UN65JS9500 Curved

65-Inch

4K Ultra HD 3D Smart LED TV (2015 Model)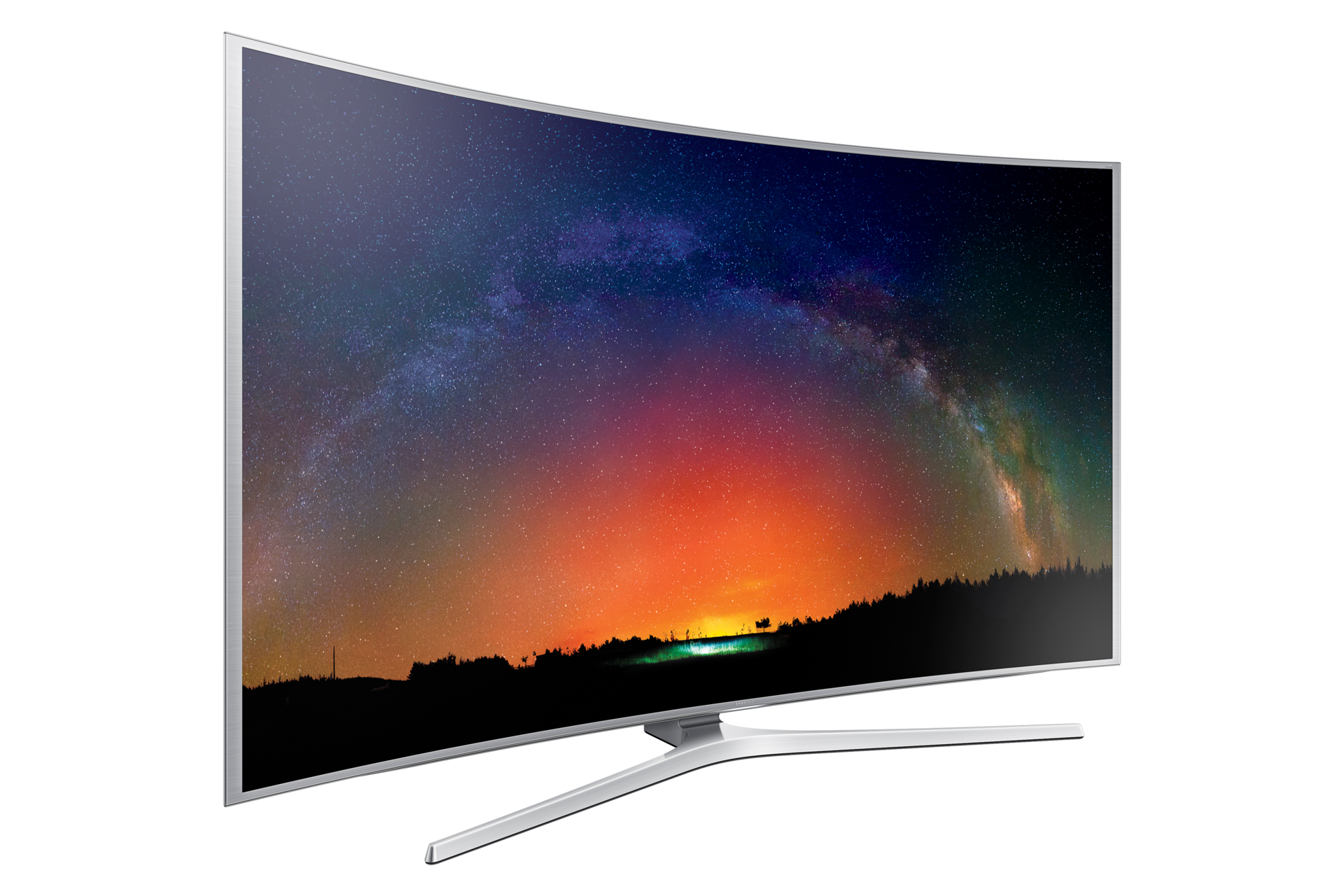 $3,399.00
Key Features  of Samsung Curved Smart LED TV
Size 65 Inch

Refresh Rate: 240CMR (Effective)

Backlight: LED

Smart Functionality: Yes, Built in Wi-Fi: Yes

Dimensions (W x H x D): TV without stand: 57.1″ x 35″ x 4.9″, TV with stand: 57.1″ x 36.1″ x 14.9″

Inputs: 4 HDMI, 3 USB
Product Information
| | |
| --- | --- |
| Product Dimensions | 57.1 x 4.9 x 35 inches |
| Item Weight | 73.6 pounds |
| Shipping Weight | 73.6 pounds (View shipping rates and policies) |
| Domestic Shipping | Item can be shipped within U.S. |
| International Shipping | This item is not eligible for international shipping. Learn More |
| ASIN | B00T48CZB6 |
| Item model number | UN65JS9500FXZA |
Samsung UN78JS9500 Curved

78-Inch

4K Ultra HD Smart LED TV (2015 Model)

Key Features of Samsung Curved Smart LED TV
Size 78 Inch

Refresh Rate: 240CMR (Effective)

Backlight: LED

Smart Functionality: Yes, Built in Wi-Fi: Yes

Dimensions (W x H x D): TV without stand: 68.7″ x 39.6″ x 6.1″, TV with stand: 68.7″ x 42.8″ x 15.2″

Inputs: 4 HDMI, 3 USB
Samsung UN88JS9500 Curved

88-Inch

4K Ultra HD Smart LED TV (2015 Model)

$19,997.99
Key Features of Samsung Curved Smart LED TV
Size 88 Inch

Refresh Rate: 240CMR (Effective)

Backlight: LED

Smart Functionality: Yes, Built in Wi-Fi: Yes

Dimensions (W x H x D): TV without stand: 77.3″ x 44.7″ x 7.5″, TV with stand: 77.3″ x 47.9″ x 17.1″

Inputs: 4 HDMI, 3 USB
Samsung Curved Smart LED TV  : SUHD TV Delivers Incredible Color & Brightness
With SUHD 4K TVs, now you can experience stunning colors, deep contrast, incredible brightness, and 4K resolution that redefines your TV viewing experience.
Samsung Curved Smart LED TV : View Everything in Higher Definition with UHD Upscaling
With the JS9500 SUHD TV, you'll be able to experience incredible 4K UHD entertainment, accessible through leading streaming services and more. The TV also upscales non-UHD TV signals, Blu-ray, and other older video to near 4K clarity, so you can view all of your media in exceptional crispness.
Built in Camera
Make Skype calls from your TV and control things like volume, content browsing, and playback with hand motion control.
(*Internet connection required.)
Samsung Curved Smart LED TV : Smart View 2.0 for Easy Mobile Streaming
Using the Samsung Smart View 2.0 feature, you can wirelessly share content between your TV and your mobile device.*
*All devices must be on the same network and internet connection is required
Curved Screen of Samsung Curved Smart LED TV
Featuring a curved screen, the JS9500 SUHD TV creates an immersive viewing experience that is ideal for watching sports or movies. The screen's curved design provides a greater sense of depth and great off-angle viewing so every seat is the best seat in the house
Easy Access to Content of Samsung Curved Smart LED TV
The Samsung JS9500 Smart TV provides one place to enjoy content from a wide range of sources. Easily connect the Smart TV wirelessly* with your compatible Galaxy smartphone for streaming and content sharing. It also lets you access your favorite program choices, live TV, video on demand, streaming sources, apps and social media in one easy-to-browse navigation experience.
*All devices must be on the same network and internet connection is required
Samsung Curved Smart LED TV : Multi-Zone Array Backlighting Creates a Brilliant Image
Experience the full vibrancy of your favorite media and entertainment with expanded brightness levels across the entire screen.
Samsung Curved Smart LED TV : Peak Illuminator Ultimate Enriches Color Content and Detail
With the Samsung Peak Illuminator Ultimate feature, you'll experience brighter whites, sharper details, and more vibrant colors. This technology selectively adapts to each scene by intelligently brightening LED illumination behind the brightest regions of the picture.
Samsung Curved Smart LED TV : Greater Contrast Depth with Auto Depth Enhancer
The JS9500 SUHD TV also features Samsung contrast-enhancing technology, which optimizes contrast across multiple zones of the picture to produce a richer, more dramatic sense of depth. The technology deepens contrast without distorting the picture's color or detail, creating a more immersive and cinematic image.
Samsung Curved Smart LED TV : Precision Black Pro Technology for Dramatic Contrast
Equipped with Samsung Precision Black Pro technology, the Samsung JS9500 SUHD TV delivers exceptional contrast depth. The TV deepens contrasts by selectively dimming LEDs behind the dark areas of the picture, thus making blacks darker without affecting the brighter elements in the picture.
Samsung Curved Smart LED TV : Motion Rate 240 Delivers Seamless Motion
The JS9500 SUHD TV features a Motion Rate of 240 to ensure your TV keeps up with the action on-screen. With its outstanding refresh rate, processing speed and backlighting technology the JS9500 SUHD TV delivers a seamless moving image that renders fast action sequences easily.
Samsung Curved Smart LED TV : UHD Dimming for Greater Picture Clarity
With UHD Dimming, the JS9500 Smart TV allows you to experience UHD picture quality with deeper blacks, purer whites, brighter colors, and enhanced detail in every image.
Samsung Curved Smart LED TV : Octa-Core Processor Delivers Rapid, Responsive Performance
Equipped with the highest-grade processing chip from Samsung, the JS9500 Smart TV lets you switch between apps with ease. This powerful processor enables the TV to quickly respond to your commands, delivering a fluid experience.
One Connect Box
De-clutter the connections to your TV with a streamlined audio and video connection solution for all your TV components.
Smart Remote Control
Take ultimate control of your Smart TV – use the touchpad to navigate quickly, perform voice commands with the built in microphone, or use the remote like a mouse and simply point and click.
Features and specifications are subject to change without prior notification. All images are dramatizations for demo purposes.