Micromax Vdeo
Micromax has launched a new range of smartphones called Vdeo in partnership with Google. The company has launched two devices called the Micromax Vdeo 1 and Vdeo 2, which are priced at Rs. 4,440, and Rs. 4,990 respectively. The two device are 4G VoLTE and come pre-loaded with Google Duo. The company says that it will launch Vdeo 3 and Vdeo 4 in the coming months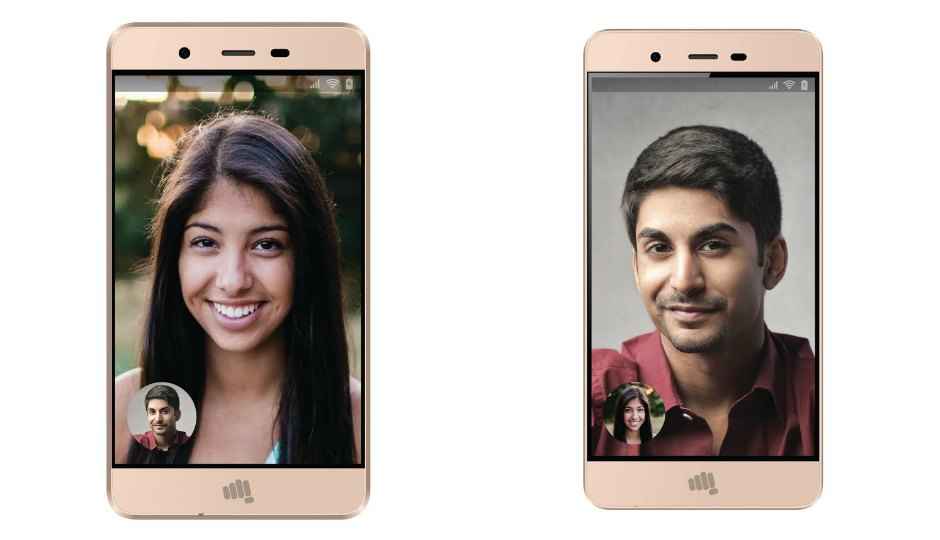 Key Features of Micromax Vdeo
Google Duo : Pre-loaded with Google Duo [ simple video calling App ]
Free Jio SIM : Ab muft mein milega 4G VoLTE-enabled Jio SIM, with Micromax Vdeo 2 smartphone. Enjoy superb 4G access, for free, as soon as you open the box.
Speedy 4G VoLTE : Shandaar banao apna experience, while watching Bollywood movies, streaming favourite dance numbers, or going crazy on social media – thanks to the blazing-fast 4G VoLTE.
The Biggera and Better : Everything from your favourite TV serials to video calls, looks better on Vdeo 2's 11.43cm (4.5) FWVGA screen. Also, with the shatter-proof Corning Gorilla Glass protection, entertainment ko karo apni mutti mein!
Latest Android Marshmallow 6.0:  Latest Android Marshmallow ke sath paiye longer-lasting battery, better memory management, and lot a more make it the most advanced OS yet.
Elegant Brushed Metal Cover :  Dikhava zaroori hai! With a sleek brushed metal cover, the Vdeo 2 comes in two gorgeous colors: champagne gold and grey black! Start showing off your new Vdeo 2 phone today.
Comparison of Micromax Vdeo 1 and Micromax Vdeo 2
Features
Vdeo 1
Vdeo 2
 Simple video call
super-fast 4G VoLTE & pre-loaded Google Duo app.
super-fast 4G VoLTE & pre-loaded Google Duo app.
Internet
Super-fast Internet with 4G VoLTE

Super-fast Internet with 4G VoLTE

Jio Sim

Free Jio Sim

Free Jio Sim

Screen Size

10.16cm (4) WVGA screen.
11.43cm (4.5) FWVGA screen

Android 

 

Android Marshmallow 6.0

Android Marshmallow 6.0

Metal Cover Color

Comes in two colors

1 champagne gold

2 grey black

Comes in two colors

1 champagne gold

2 grey black
Read the complete press release below on Micromax Vdeo 1 and  Micromax Vdeo 2
Micromax Informatics, India's leading mobile brand and world's 10th largest smartphone brand, today partnered with Google to announce the launch of its Vdeo range. Aimed at reviving the affordable smartphone segment and popularising the video calling experience, the Micromax Vdeo range is country's one of the most affordable 4G VoLTE smartphone with pre-loaded Google Duo app. The company launched two smartphones under the Vdeo range – Vdeo 1 and Vdeo 2, which is a complete package with 4G VoLTE, latest Android Marshmallow, spectacular metal body, to kick-start the smartphone adoption in every corner of the country. The smartphones also come with a pre bundled Reliance Jio SIM, which offers three months of unlimited free data and voice calling option to all the Vdeo users.
With Google Duo, pre bundled Reliance SIM, 4G VoLTE, the company wants the consumers to immediately start enjoying the benefits of both 4G and the Duo App. The smartphone will power the next phase of smartphone adoption in the country by hand-holding consumers to upgrade to smartphones. In the coming months, the company will be extending the Vdeo range with the introduction of Vdeo 3 and Vdeo 4.
Commenting on the launch, Mr. Shubhajit Sen, Chief Marketing Officer, Micromax Informatics said, "At Micromax we thrive on our understanding of the Indian consumer, consistently deriving insights and delivering innovative products to the market. 2016 has seen a marked slowdown in the long term trend of Feature Phones users shifting to Smart Phones. Two barriers we identified were perceived high cost of data and a lack of a differentiated mass-use case. With the launch of the Vdeo range we have focused on these issues. We believe Video calling that is as simple as making a voice call, in a stable environment, will be a strong use case especially in smaller towns. This feature, coupled with free internet connectivity with the pre-bundled Reliance Jio SIM is a compelling proposition that will accelerate the switch from feature phones to Smartphones. Our leadership position and strong brand equity has allowed Micromax, for the first time in the industry, to bring together key players in the eco-system to deliver a complete solution for our consumers."
He added "Of course, the Vdeo range is fully loaded with best-in-class features for an entry level Smartphone – including 4G VoLTE, Android Marshmallow, Quad core processors, great battery performance and housed in a premium and stylish metal body. We are extremely proud that we have managed to deliver this bundle of features in phones priced under Rs 5000. "
Micromax Vdeo 1 & Micromax  Vdeo 2
The two variants in Micromax's Vdeo range, Vdeo 1 & Vdeo 2 feature a 4-inch & 4.5-inch WVGA & FWVGA display, respectively, offering excellent graphics quality enabling users to enjoy video calls & multi-media content. Both smartphones offer an efficient performance with the on-board 1.3 GHz Quad Core processor and a 1GB RAM which enable users to juggle between apps seamlessly. The Vdeo 1 & Vdeo 2 come pre-loaded with the latest Android Marshmallow 6.0 giving users the best Android experience available in the market. The smartphones also sport a 5MP rear camera and a 2MP front camera. With the 8GB ROM, both smartphones ensure that users can download and store enough applications, documents and multi-media content right on their smartphone. The 4G LTE enabled Vdeo range ensures that users never have to wait for webpages to load or experience any lag during video calls! The Vdeo 1 is powered by a 1,600 mAh battery whereas the Vdeo 2 features a larger 1,800 mAh battery! Both smartphones will come pre-bundled with a Reliance Jio SIM offering users 3 months of unlimited data, priced affordably at Rs. 4,440 and Rs. 4,990 for the Vdeo 1 and Vdeo 2 respectively.