LG Double Door Refrigerator GL-B282SGSM 255 L 
(Graphite Steel)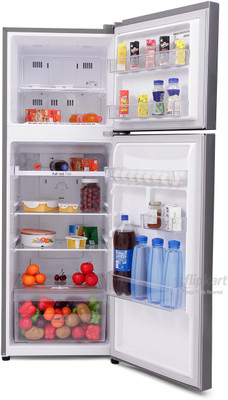 Key Features of LG GL-B282SGSM 255 L Double Door Refrigerator
Number of Shelves: 2
3 Star Rating
Frost Free
Color: Graphite Steel
Top Freezer Refrigerator
WxHxD: 555 mm X 1570 mm X 620 mm
Smart Inverter Compressor of LG Double Door Refrigerator 
LG's New Smart Inverter Compressor is one of the most advanced and energy efficient compressor that saves energy upto 36%* by adjusting cooling power in response to the amount of food you load in the refrigerator which provides efficient energy consumption. Designed to give you unmatched performance, great savings and super silent operation, the New Smart Inverter Compressor is yet another delightful innovation for your convenience. You won't be troubled by annoying inverter sounds when you're watching TV as LG's New Smart Inverter Compressor functions very silently.
 Multi Air Flow feature of LG Double Door Refrigerator 
Cold air is dispersed throughout this fridge in many directions via multi-flow air vents, so your edibles will stay fresh and healthy.
LG's Multi Air Flow ensures even cooling by dispersing Cool  air effectively in multiple directions throughout the refrigerator  by using the multi flow air vents located all over the refrigerator.
Thus helps in keeping the food fresh & healthy.
LG Double Door Refrigerator is Eco Friendly Refrigerator
The LG Eco-friendly initiative focuses on environmentally sustainable solutions through Eco-Design and Eco-Products, reduction of hazardous materials and addressing global climate change like Global Warming.This eco-friendly fridge emits less carbon, so it doesn't harm the ozone layer and contributes to a greener tomorrow.
Pull Out Tray of LG Double Door Refrigerator
Specially Designed tray to store frequently used items.Place your milk packets, soda bottles and other frequently used items in the specially designed pull out tray.
Moist Balance Crisper
This is a special lattice-type box cover which maintains moisture at an optimum level. Moisture from stored food is evaporated and then condensed on the lattice, maintaining the correct balance of moisture in the box.
The ideal amount of moisture for food is maintained by the special, latticed box cover of the Moist Balance Crisper.
Top LED of LG Double Door Refrigerator
LG's Unique Top LED Provides you Premium Looks, Uniform brightness across the refrigerator, better Interior Aesthetics, Durability & Energy Efficiency
The energy-efficient LED light that can be found on the freezer's ceiling looks good and it allows you to clearly see what you've stored inside.
Ever Fresh Zone of LG Double Door Refrigerator
With the assistance of Moist Balance Crisper and Humidity Controller, the Ever Fresh Zone keeps all your veggies fresh.
2-litre Bottle Storage of LG Double Door Refrigerator
The refrigerator door has the right amount of space for you to store 2-litre bottles.
135-290V LVS
Voltage fluctuations ranging from 135 to 290 volts can be handled by this fridge.
Regular Ice Tray
Make all the ice you need to chill the drinks of your guests with the ice tray.
INSTALLATION & DEMO
Standard installation and demo is provided free of cost.
Kindly call the toll-free customer care number for LG at 1800 180 9999 to schedule a demo of your Refrigerator. You shall provide details of the purchased model during the call. Post the call, you will receive a ticket number from LG.
The brand authorized service engineer will schedule a mutually convenient time to provide installation and demo at your doorstep. Usually this is done within 2 Business Days of logging a ticket with LG customer care.
Kindly contact on 1800 208 9898 for any further queries.
WARRANTY of LG Double Door Refrigerator 
1 Year Comprehensive and 10 Years on the Smart Inverter Compressor from LG
Covered in Warranty :All Parts Excluding Plastic Parts, Glassware, Bulb and Tube from the Date of Purchase Against Defective Material and Workmanship
Not Covered in Warranty:Parts: Plastic / Glassware / Bulb / Tube. Any Accessories External to the Product. The Product is not Used According to the Instructions Given in the Instructions Manual. Defects Caused by Improper Use as Determined by the Company Personnel. Modification or Alteration of Any Nature made in the Electrical Circuitry or Physical Construction of the Set. Site (where the Premises is Kept) Conditions that do Not Confirm to the Recommended Operating Conditions of the Machine. The Serial Number is Removed, Altered or Obliterated from the Machine. Defects Due to Cause Beyond Control Like Lightening, Abnormal Voltage, Acts of God or While in Transit to the Service Centres or Purchasers Residence.